JMU secured its largest private cash donation ever as its College of Business found donors to sponsor the name for its newly unveiled academic building by Newman Lake.
James ('70) and Carolyn Hartman etched their names into history for $3.7 million by securing permanent naming rights to the roughly 100,000-square-foot building, CoB Dean Michael Busing said.
Hartman Hall will host CoB students for the foreseeable future alongside Showker Hall, which is under construction this year until renovations wrap up in May 2021.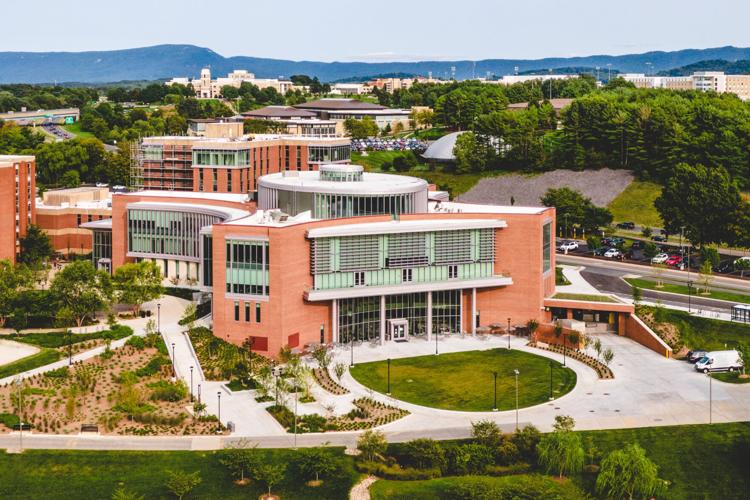 The renovations span 210,000 square feet between the two buildings and include new classrooms, spacious indoor and outdoor seating, and a dining facility with a bakery and cafe. The CoB has more than doubled in size student-wise since Showker launched in 1991, and Hartman Hall will alleviate overcrowding and provide modern upgrades for students and faculty.
Construction costs totaled $99,235,000, though JMU was only responsible for $15 million of that sum. That's thanks to state funding that covered the remaining $84 million and change, Charles King, senior vice president for administration and finance, said in July. 
JMU's new College of Business building will be put to use this fall semester after over two years of construction. 
JMU set out to raise about $16.6 million privately to account for interest over time, King said, and it's topped that goal and raised $19.1 million in pledges as of Oct. 19, including the Hartmans' gift. Busing said the CoB received Hartmans' money upfront and will put it toward the renovation project. Money left over will fund scholarships for current and future CoB students.
The CoB went on a naming spree in what's now Hartman Hall, as it's hard to find a classroom, stairwell or lounge that doesn't have a nameplate thanking charitable alumni near it. Nick Langridge, vice president of University Advancement, said nearly 2,500 donors, including 39 students, have given toward this project — more than any other in JMU's history.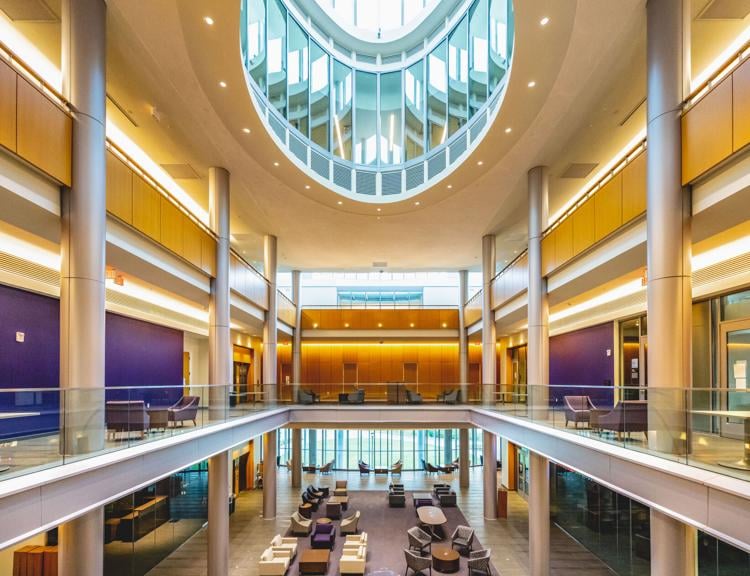 That opportunism built on enthusiasm surrounding the state-of-the-art facility has continued, and Busing said CoB is looking for donors to name the complex as a whole and the college itself.
"You only get one chance to name a building," Busing told the Madison Business Review in late July. "We have not come across that donor yet, but here's what I'm optimistic about: Once some high-profile donors start to see this building — and it's more than just the bricks and mortar; it's what's happening inside this building — somebody's going to want their name on this building."
The Hartmans proved Busing's thesis right. The CoB had interest from a number of suitors, Busing said, adding the CoB has a relatively young alumni base that's generally in the wealth accumulation stage instead of the wealth dissemination stage.
The College of Business Learning Complex found another donor and landed a name.
Busing was involved in the courting process but not negotiations. He said he toured the building with the Hartmans, King and Langridge on Sept. 18 and recalled the sun came out that day after a stretch of rain. That made him confident that Showker Hall's new sibling wouldn't be nameless much longer. JMU had a verbal commitment later that day and a verbal one four days later.
"You could just tell they were instantly, you know, they had an affinity for this space, I think, during the tour," Busing said. "And having gone here, one thing I know about Mr. Hartman, he just kept commenting about, 'Wow, it wasn't like this when I was in school.'"
The couple had sold Truck Enterprises Inc., a Harrisonburg-based truck dealership network with eight locations spanning Virginia, West Virginia and Maryland, weeks earlier to Utah-based Kenworth Sales Co. for an undisclosed amount.
James' father, Dwight, started the company in 1961. Seven years later, James transferred to JMU, where he'd soon graduate with a Bachelor of Business Administration degree while working part-time with Truck Enterprises on the site.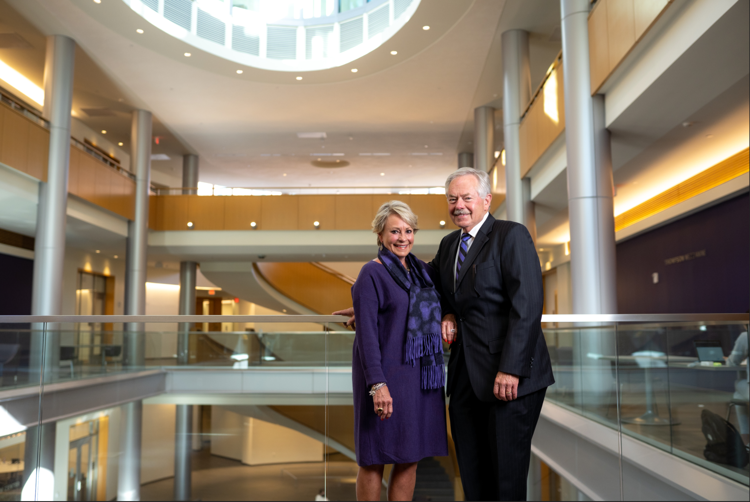 "I think back to when I was in school here 50 years ago, and we didn't have any really neat places to study or these incredible other assets of this building," James said in a CoB press release. "We are just thrilled that today's students do have those to use and benefit from."
The Hartmans' daughter, Jennifer Risser, followed in her father's footsteps and graduated from JMU in 2000 with an English degree. She now works for JMU's Center for International Stabilization and Recovery. The two also have a son, Scott, who isn't a JMU alumnus.
"On behalf of all the faculty, staff and students, we could not be more grateful to Jim and Carolyn Hartman for this gift," Busing said.
The Hartmans plan to celebrate in the building they named at the CoB's grand opening planned for next fall.
James Faris is a senior media arts and design major. Contact James at breezembr@gmail.com.