Creativity and resilience have defined Disney throughout its 97-year history, but a pandemic made "The Happiest Place on Earth" a little less so in recent months.
Yet despite deserted theme parks, empty cruise boats and limited programming for ABC and ESPN, House of Mouse squeaked out a profit in its Q3 earnings announced Tuesday.
Disney reported earnings per share of $0.08, which was down 94% year-over-year from $1.34 but far ahead of the -$0.64 mark Wall Street expected. The company's revenue came in light at $11.8 billion against the expected mark of $12.4 billion for the quarter ending June 27, and the company won't issue its semiannual dividend that would've yielded 1.5%.
The stock initially plunged 3% before surging over 5% in after-hours trading Aug. 4.
Direct-to-consumer firepower
Unlike most of the company's segments, Disney's direct-to-consumer business undoubtedly benefited from the pandemic. The company has over 100 million subscribers on its three services: Disney+, Hulu and ESPN+. Hulu grew 27% year-over-year while ESPN+ grew to 8.5 million subscribers from 2.4 million, thanks in part to a bundle of the three services for $12.99.
Think outside the box office: That's the challenge for Hollywood as streaming services cemented their roles in society during the pandemic. While theaters closed, movie studios were forced to rethink their business models as hours spent streaming skyrocketed.
But the real story in the mixed quarter was Disney+, which has far exceeded the highest expectations of investors, analysts and Disney itself. 
Disney+ has 60.5 million subscribers, a mindbending number considering the company hoped to land 60 million to 90 million global subscribers by 2024. In a July report, a Goldman Sachs analyst projected the service would boast 150 million subscribers — Netflix currently has 190 million — by 2025, and it's 40% of the way there just nine months after launching.
The streaming service, which packs a wide library of Disney content, Pixar films and content from Star Wars and Marvel for an attractive $6.99 per month, gained 10 million subscribers when it launched Nov. 12, 2019. Its progression since that strong start is remarkable, given that a goal of 20 million subscribers in the first year was viewed as ambitious back in January.
Disney+ has grown thanks to the nationwide quarantine and fresh releases like Hamilton and Black is King, a visual album from Beyonce. In a highly competitive space inhabited by Netflix and newcomers like AT&T's HBO Max and NBC's Peacock, buzz-worthy content is a must for competitors in the streaming wars.
The contenders have emerged in the streaming wars, and there are more options for audiences than ever. This in-depth look at the industry presents pros and cons of each service for streamers on a budget.
Investors were pleasantly surprised when the company announced Tuesday that its live-action remake of Mulan will be released directly on Disney+ for $29.99 in early September after the film's release was delayed twice after it was originally set for mid-March.
And the good news may keep coming for Disney+ as cable and internet companies like Verizon bundle the service to hook customers. Disney+ is a natural choice for Verizon, as it's cheaper than Netflix and gives Big Red an alternative to working with rivals like AT&T, which owns DirecTV and HBO Max, and NBC, which owns Comcast and Peacock.
However, Disney didn't expect Disney+ and Hulu to be profitable until 2024 before the pandemic. Impressive subscriber additions and smart partnerships may advance that timeline to 2021, according to Goldman Sachs analyst Brett Feldman, but in the short term, Disney's most successful business is losing money because of astronomically high content production costs that were made worse by pandemic-induced delays.
Trouble in Magic Kingdom
As expected, much of Disney's business is in rough shape. The company's business model, built on mass gatherings for entertainment and discretionary spending, doesn't work in a recession — much less a pandemic.
Its parks division, which made up 32.4% of its revenue in Q3 2019, fell 85% year-over-year as parks shuttered before opening to just 20-30% capacity in Florida and 30% in Shanghai. Its reopening was delayed in California. Domestic parks, a stable cash cow earlier this year, may not be profitable again until 2025, according to a Cowen research analyst.
Disney dominates in animation thanks to its own storied studio and Pixar, which it acquired in 2006. The company landed 21st Century Fox in March 2019 to further cement its Hollywood strength.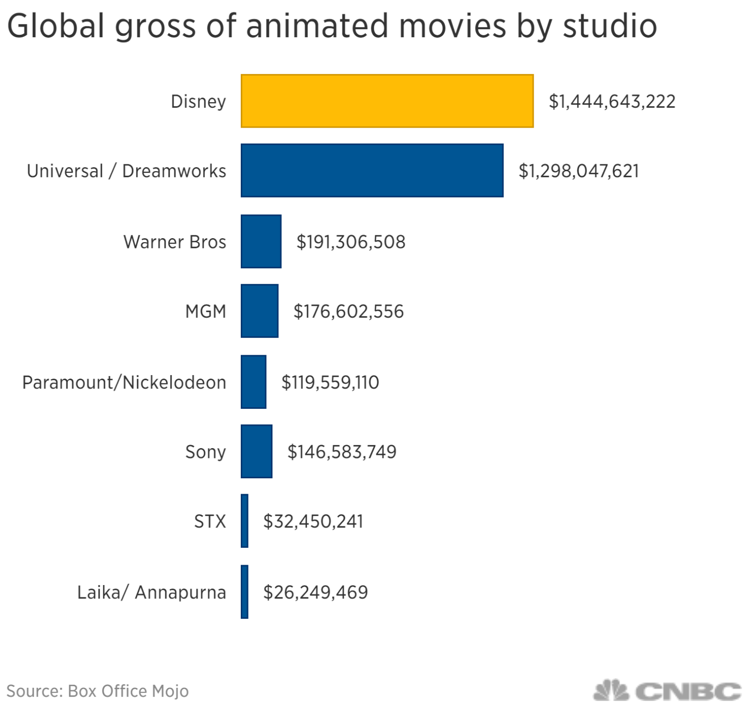 But the days of seeing movies on the big screen may be numbered, especially after a blockbuster deal between NBC Universal and AMC that shortens the theatrical window from three months to 17 days. That could spell doom for many small theaters and condition consumers to wait a few weeks for movies instead of leaving home. Optimists will say that's bullish for Disney+, but if independent theaters around the country falter, the change could hurt Disney significantly long term.
Disney owns ABC and ESPN, and both have struggled mightily for content in recent months. While ESPN has found life as the MLB and NBA have resumed, those two sports, along with the NFL, aren't guaranteed to finish their seasons. If that happens, it will be a brutal fall and winter for Disney. Similarly, ABC will be hurt drastically as new TV seasons can't be filmed as planned, which leaves the network to resort to reruns. Both networks' struggles come as advertisers are cutting spending.
Disney's cruise business also faces an uncertain future, as consumer confidence in cruises after COVID-19 may be permanently shattered after horror stories emerged during the pandemic. All Disney's cruise ships were offline in the quarter, and it costs millions to keep them from falling apart. How quickly demand to return to sea will rebound, if at all, is a complete unknown.
Even Disney bulls like JP Morgan's Alexia Quadrani note that tourists will be skeptical of boarding planes while others won't have the financial means, given the economic repercussions of the virus. 
"I do think there's a lot of interest in folks coming back," Quadrani said to Jack Hough of Barron's. "But you can't assume it goes back to normalized capacity for quite some time."
In the meantime, Disney was forced to furlough over 100,000 workers. The pandemic has been unkind to cruise lines, theme parks, movie theaters, sports leagues and others in the entertainment space, and Disney may be the only company with exposure to all those spaces.
What's next for Disney and its stock?
The virus is spreading at an alarming rate, and Disney's hopes are tethered to a reopened world as much as any company. 
Even if a COVID-19 vaccine appeared overnight that was safe and effective, it would take many months to manufacture and distribute enough doses for everyone who wants and needs it. Of course, a vaccine isn't available now, and despite progress from top pharmaceutical companies, there's no guarantee a safe, effective vaccine will be approved by late 2020 or early 2021.
Long-term, Disney is about as safe of a bet as it gets. The brand is one of the strongest, most well-known and most respected on the planet, and it will undoubtedly be around in 50 years.
But an investment in Disney isn't a wager on the popularity of Disney+ or the eventual strength of the company's theme parks, cruises or broadcast channels of ABC and ESPN. Instead, putting money in Disney means a bold bet on the recovery and on America's ability to quickly defeat the virus and revive its economy.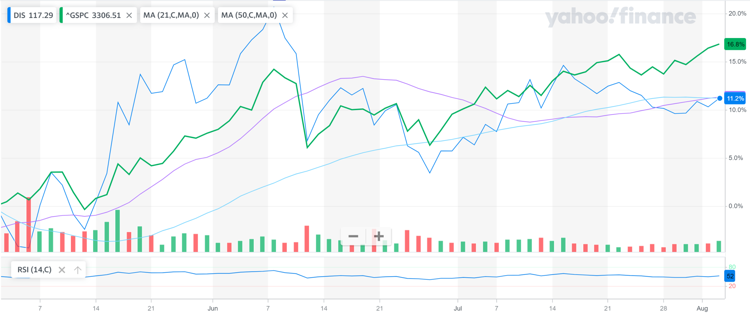 Though Disney's stock could move from $117, where it closed Tuesday, to $127, where it tapped out June 8, it's hard to imagine a catalyst bringing shares much higher, barring major vaccine news or a stunning reversal in the pandemic's spread.
Meanwhile, Disney has consistently underperformed the market in the past year, and it's hard to imagine that changing in the near future, given the current complications to the company's business model. 
While Disney's stock is highly likely to be in the green in two, five and 10 years, that's far from the only consideration for investors. If it won't outperform the market in that span, it would be much wiser to put their money in a low-cost index fund that tracks the broader market, or — for those with more risk-tolerance — a technology-focused fund that's dominated in recent years.
Investors are unlikely to see fireworks in a Disney stock investment until they resume in Disney World, and there's no telling when that will be.
James Faris is a senior media arts and design major. Contact James at breezembr@gmail.com.
Disclaimer: I have no positions in any stocks mentioned and no plans to initiate any positions within the next 72 hours. I exited a long-term position in Disney in early August. I wrote this article myself with original research, and it expresses my own opinions. I'm not receiving compensation for it, and I have no business relationship with any company whose stock is mentioned in this article. 
Additionally, I'm an analyst in the Madison Investment Fund's Consumer Discretionary sector, which has a long position in Disney. All information is current as of Aug. 4, 2020.
Additional disclosure: Investors are always reminded that before making any investment, they should do their own research on any name directly or indirectly mentioned in this article. Investors should also consider seeking advice from a broker or financial adviser before making any investment decisions. Any material in this article should be considered general information and shouldn't be relied on as a formal investment recommendation.