JMU's newest on-campus eatery gives students a reason to wake up early, and JMU Dining hopes it's also an incentive for upperclassmen to buy a meal plan.
All-day breakfast has made its way to JMU's campus via The Den, a Denny's fast-casual concept in Dukes Dining at 261 E Grace St.
The traditional sit-down, full-service Denny's diner wouldn't fly on a college campus — especially not in a pandemic. Instead, The Den offers everything to-go and gives students 16 Duke Deals to choose from, including burgers, burritos, paninis, salads and seven breakfast options.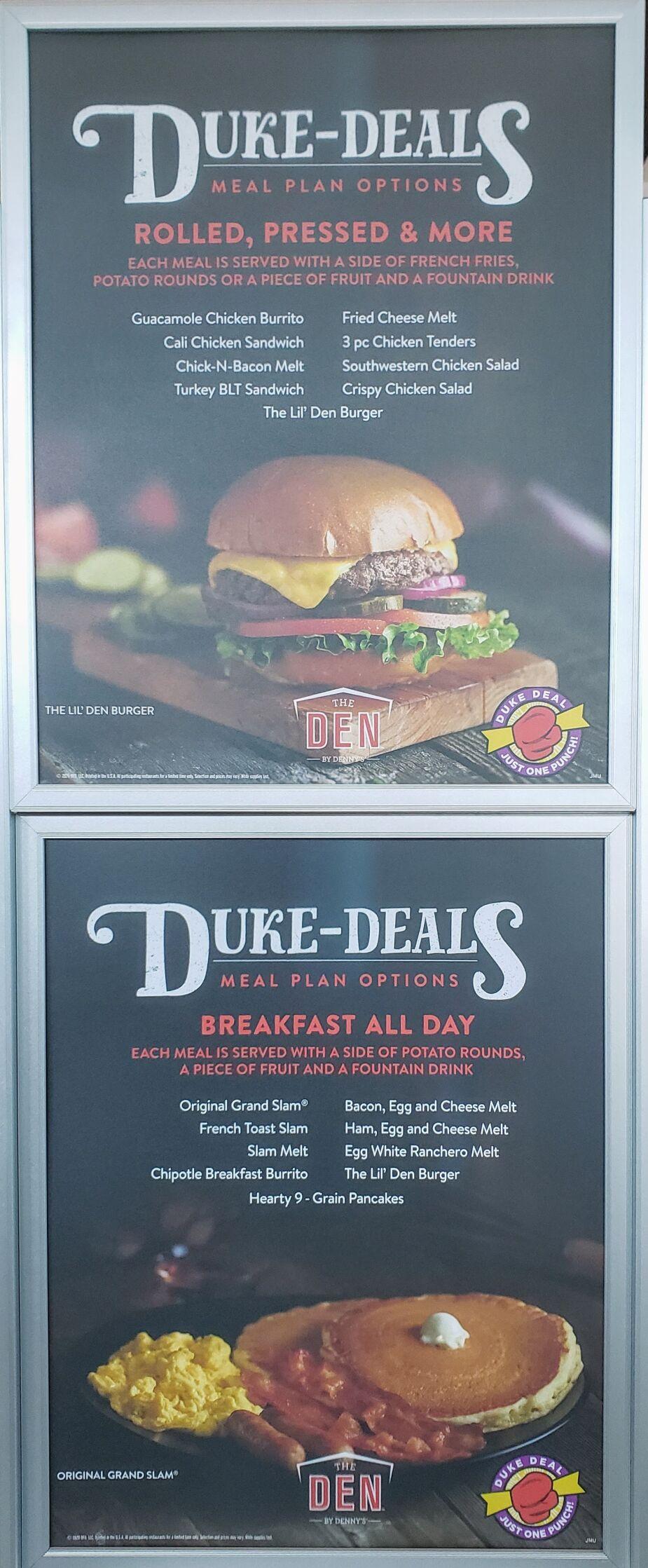 "There seems to be a growing demand for breakfast all day because students are sleeping at different times of the day," Barry Wells, senior manager of non-traditional development and operations at Denny's, said. "So with the name like Denny's — Denny's is known for the Grand Slam breakfast and all the other breakfast items — Denny's is a good fit for a college campus."
Surveys conducted five years ago by JMU Dining Services reflected that desire for breakfast and an Asian concept, Brent Beringer, director for dining at JMU, said. Aramark, the food-service giant that operates JMU Dining Services, then placed The Den and Panda Express — two restaurants in its portfolio — at Dukes Dining.
"We depend very greatly on the upper class students who have meal plans in order to make everything here work," Beringer said. "And obviously, that's a choice. And if we don't offer what the students are looking for, particularly the upper class students … then the program ends up in trouble. There's no question about it."
The Den drew crowds through its four days of operation and saw surges of well over 100 customers per hour when classes weren't in session, Wells said. It was the top brand in the building by overall sales and guests per hour in its first five days, Beringer added.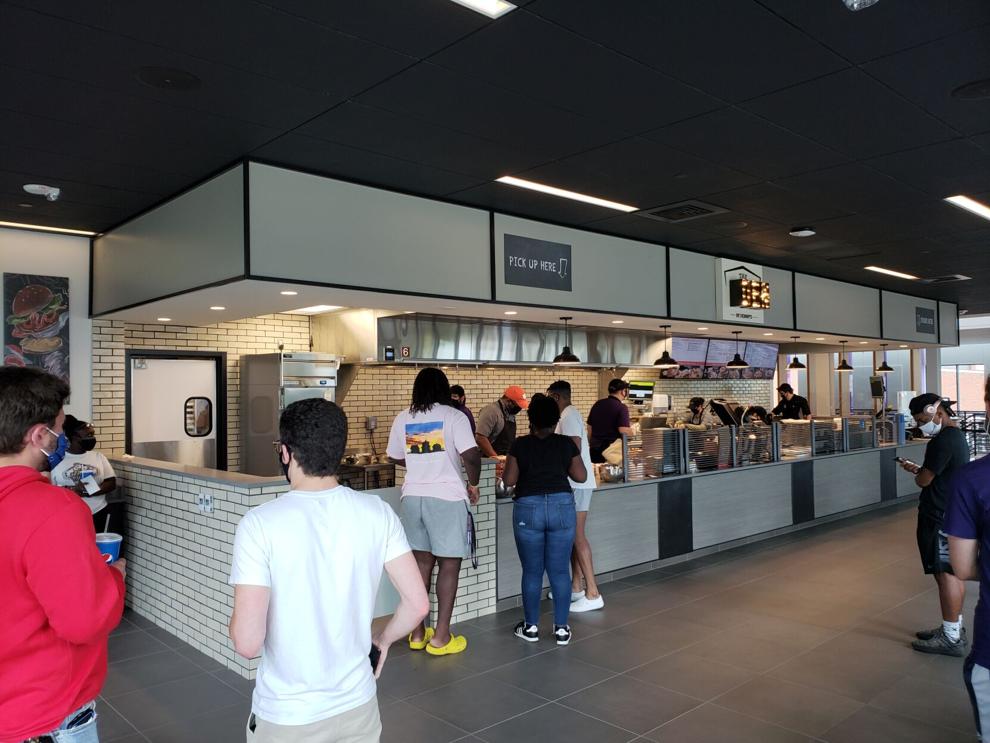 JMU Dining is still calculating projected sales data, Beringer said, though the pandemic and a small sample size makes it difficult to nail down a benchmark revenue estimate for The Den. But Beringer said the restaurant is performing better than expected so far, and he doesn't expect that to change.
"What we were excited about it was that price point," Beringer said. "So many of our students on campus, of course, have meal plans, want to use their meal plans both in the residential dining rooms like E-Hall and D-Hall but also in the retail brands. Denny's, with their price points and structure, allowed us to put [16] meals in the Duke Deal category, which was phenomenal."
That surprisingly strong demand came even as traffic at night was far lighter than expected, which Beringer said surprised him. The Den is open from 11 a.m. until midnight Monday through Thursday and until 9 p.m. on Friday, which is far later than most other on-campus options.
The Den isn't yet open on the weekends, but Beringer said that will change when traffic at the restaurant rises and steadies. JMU Dining's restaurants typically see high volumes throughout the week that vanish come Friday afternoon until Sunday night, Beringer said.
"Like any business, in order to provide, you know, the meal plans to the students at the best possible rate, we try not to offer options that make no sense and cost money," Beringer said. "[I have] no idea whether the weekend hours will fit that or not." 
JMU Dining's primary focus was to get Dukes Dining open, Beringer said, adding that it was a closer call than expected. It was ready to go a week before its launch instead of a month in advance.
Despite a 10.2% national unemployment rate, staffing employees was a challenge, Beringer said, given that many workers are uncomfortable taking a job right now for health or family reasons. Some parents have to stay home and care for children as schools in the area moved online, and Beringer said some JMU students aren't looking for jobs at the moment.
The man in charge of training The Den's new workers is Michael Bess, the new restaurant opening manager at Denny's. He and his team travel across the country and around the world getting employees up to speed. JMU is home to the 31st The Den location since the concept launched in 2010, and each school leaves its fingerprint on the restaurant with custom decor.
In their 17 days in Harrisonburg, Wells and Bess said they were impressed by the lengths JMU went to in constructing Dukes Dining, D-Hall and even D-Hub — a temporary facility set up while D-Hall and Dukes Dining were under construction. Bess said he'd never done training in a brand-new dining hall on a college campus in over 20 years with the company.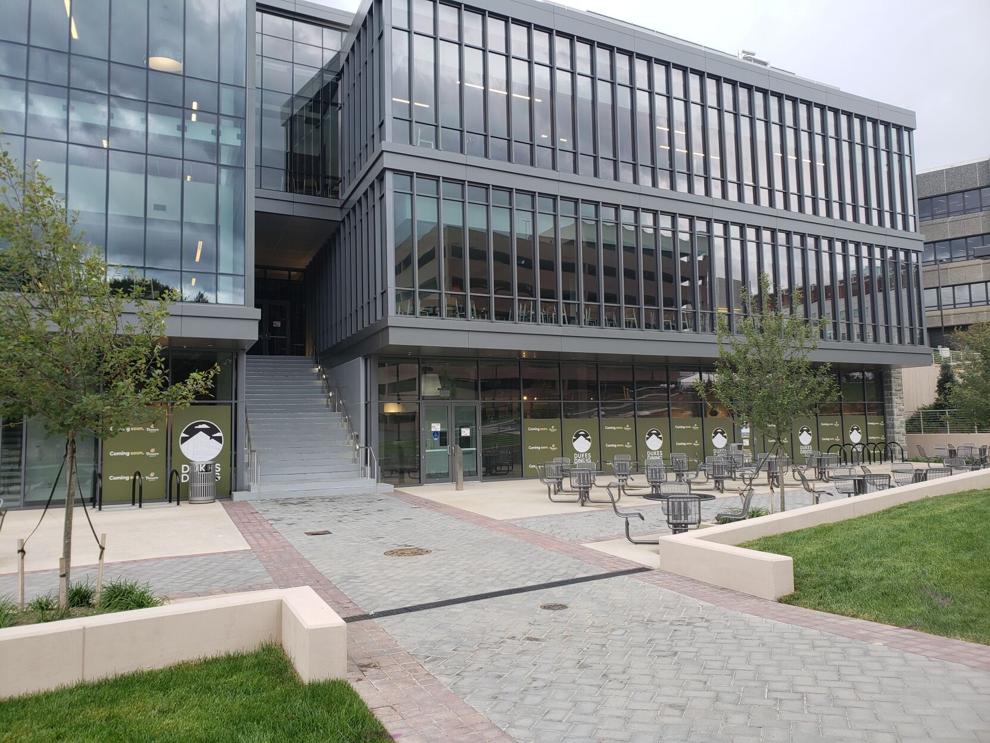 "It was cool walking up, seeing the big new building when I got the address but then noticing that The Den was on the main level when you get upstairs," Bess said. "So, seeing a big glass structure, I was like, 'Is this gonna be The Den?' Because typically, we are at ground level and we're in a major food court, or we stand alone."
The two will be back to campus in September to check in, and they'll lean on data showing what's selling well and what isn't. Wells said the menu is likely to refresh regularly with limited-time offerings.
"Nothing's out of the question," Wells said. "Things like, do we need [wings]? Obviously, your wing concept next door [PC Wings] is very popular. ... Do we need even a pizza concept solved to our program? None of it's out of the question."
Denny's hopes to think outside the box and continually reinvent itself to stay relevant with young people, Wells said, a critical demographic in any business, including restaurants.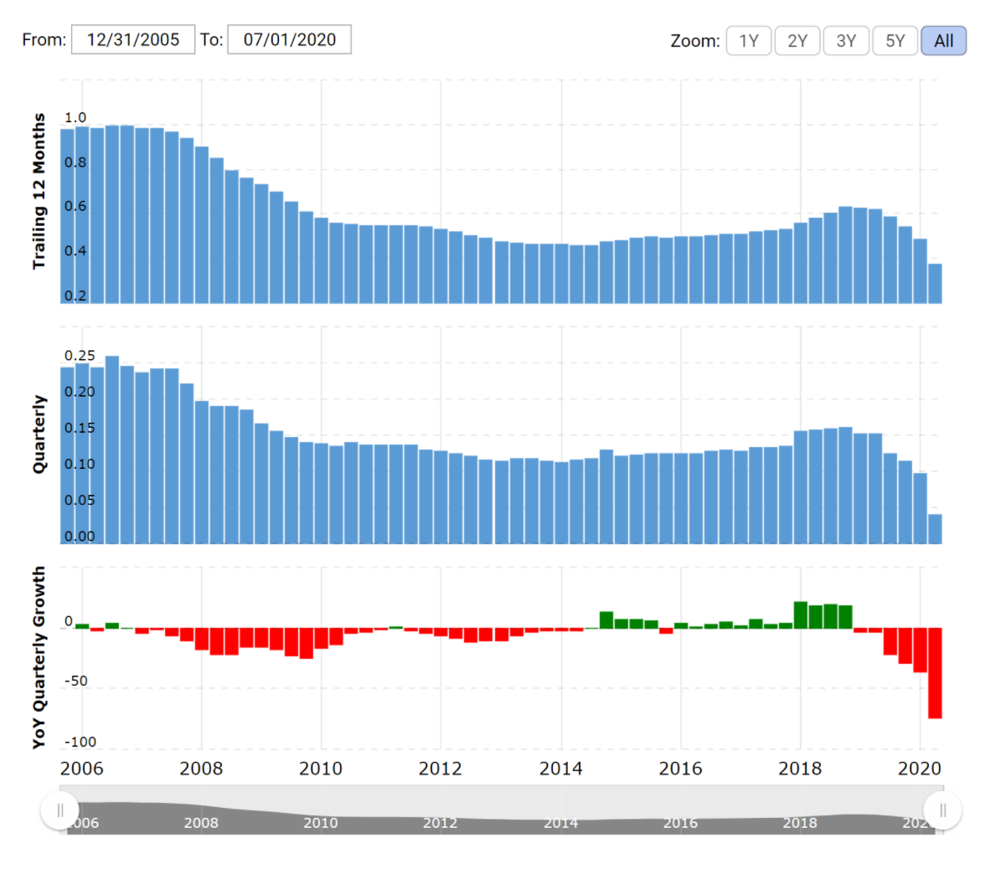 Revenue at the traditionally family-centric restaurant climbed steadily in the mid-2010s after crashing hard in the Great Recession, according to Macrotrends. But revenue started to slip quarter-over-quarter in 2019, and the pandemic has exacerbated the decline.
Wells and Denny's hope The Den can play a small role in brightening the company's future.
"We know that the college campuses are our next generation of customers," Wells said. "Getting the Grand Slam breakfast in front of the college customer will create customers that are brand-loyal. There'll be a percentage of those folks that enjoy the Grand Slam breakfast during their college years that will look for it down the road when they travel."
James Faris is a senior media arts and design major. Contact James at breezembr@gmail.com.
Disclaimer: I have no positions in any stocks mentioned and no plans to initiate any positions within the next 72 hours. I'm not receiving compensation for it, and I have no business relationship with any company whose stock is mentioned in this article.