If you know little about digital payment services, cryptocurrencies like Bitcoin and financial technology, or "fintech," that have exploded in popularity during the pandemic, it's easy to feel stuck in a vacuum and behind in a rapidly evolving world. 
Below is an in-depth look at how cryptocurrencies like Bitcoin work and both the catalysts for continued growth and risks to the highly volatile digital asset.
Bitcoin garnered national attention when it soared to nearly $20,000 for one coin in December 2017, especially when considering it came from 0.05 cents ($0.0005) at its inception. The most famous cryptocurrency is still off its all-time high of $19,783.06, though that mark is looking more and more in reach by the day.
Snapchat soared this week in a busy week that saw companies like Netflix and Tesla also reported earnings. The Madison Business Review's Bryce Roth breaks down what moved the market in this week's market analysis.
Bitcoin has surged 132.9% in 2020 from $7,177.57 on Jan. 1 to around $16,720 as of Nov. 16 and has been on a meteoric rise since October, marching 57.6% higher in the last six weeks.
How do cryptocurrencies work?
Blockchain is the record-keeping technology behind the Bitcoin network, in the words of Investopedia. It runs on "distributed ledger technology," meaning it maintains records of all cryptocurrency transactions on a distributed network without a central administrator, meaning the payment platform is open-source and not under the control of a government or corporation. 
Data is transferred through encrypted "blocks" of storage, and blockchain optimists hope the technology's impact will span all industries, not just financial services. Blockchain is the key piece to Bitcoin that keeps the supply chain system running efficiently, and it's likely to be also used in healthcare, insurance and retail industries in the future.
For now, it's captured the imagination and attention of those looking to use it for mobile payments, which still aren't as popular as payment services such as Visa and Mastercard, according to The Wall Street Journal. Tons of retailers still use traditional services like Apple Pay to allow phones to pay through embedded chips and near-field communication technology.
Why use cryptocurrencies like Bitcoin?
Bitcoin is attractive for many reasons, including its decentralized payment platform that allows for instant, frictionless transactions and its limited supply that's a hedge against inflation.
Users looking to send money from the U.S. to Mexico can use a cryptocurrency like Bitcoin to move money far quicker and with fewer fees than in traditional methods. Instead of selling dollars to buy pesos and paying hefty conversion fees, Bitcoin transfers are instant and cheap.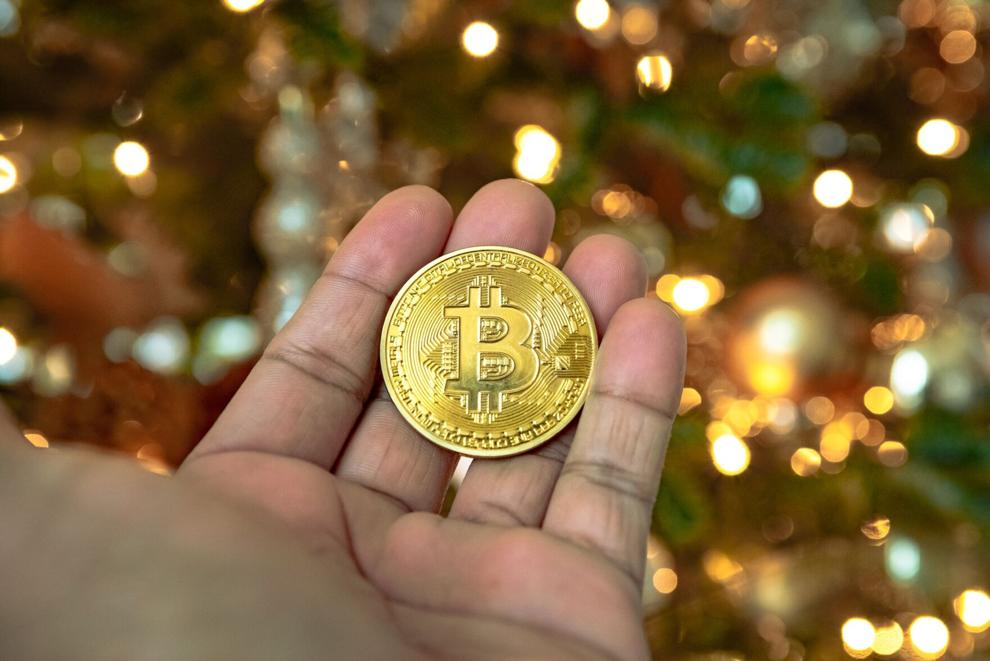 Many see Bitcoin as a form of "digital gold" since its supply is fixed at 21 million coins, unlike the U.S. dollar that has no supply limit and thus can be printed by the Federal Reserve endlessly. By contrast, Bitcoin's capped quantity makes it finite, as gold is, with the obvious exception that the cryptocurrency isn't physical.
Cryptocurrencies challenge the status quo, though risks remain
Cryptocurrency appears to be the future of digital payments, but there are obstacles in the way. 
Fintech innovations like Bitcoin can better both consumers and small businesses by expanding access to financial services, reaching underserved customers, cutting transaction costs, allowing for tighter budget controls, and improving convenience and efficiency, Teresa Curran, former executive vice president of the San Francisco Fed, said in April 2016.
Financial technology, or fintech, makes global payments seamless and helps people in developing countries manage money. It's been crucial amid the pandemic, though there are limitations.
But before Bitcoin replaces traditional currencies, it "must be sufficiently better to warrant the cost of switching," explains William J. Luther, director of the American Institute for Economic Research's Sound Money Project, in The Independent Review. "Switching costs" incurred when moving from traditional currencies to virtual ones like Bitcoin include updating transaction records as well as the public learning and adapting to the new currency.
Luther's quote shows the true psychological and financial obstacles that must be hurdled by consumers to switch from cash, debit and credit cards, and services like PayPal's Venmo as their primary means of payment.
But it's taken time for mobile payments to gain steam, and it's likely cryptocurrencies like Bitcoin will face steep hurdles, given that they aren't as intuitive or accessible for most.
First, without any consumer protection or guarantees on liquidity when users want to cash out, this cryptocurrency trend would have never occurred. However, some of the Federal Reserve's main concerns were like the one just pointed out because Bitcoin does not have nearly as strong of consumer protections as commercial or corporate banks do.
The Federal Deposit Insurance Corporation protects up to $250,000 in accounts of banks that collapse. That offers more peace of mind than relying on cryptocurrency, which has no similar protections from collapse, malfunctions or lockdowns. 
These issues will likely have to be resolved before mass-market adoption, as the past teaches that technologies and companies that rise to prominence too fast end up struggling to keep up with consumer demand. 
If Bitcoin fails, companies like PayPal, Google and Apple will gain even more market share with their wallets. A rejection of Bitcoin and other cryptocurrencies as realistic forms of currency will ultimately lead to a healthy balance between cash, credit cards and mobile electronic banking. 
Traditional banks like J.P. Morgan are adapting by launching trials of their own cryptocurrencies to transform their international payments for corporate clients, even as CEO Jamie Dimon has bashed Bitcoin as a "fraud," according to CNBC. Other investment banks like HSBC and Credit Suisse are developing their own fintech ideas.
There is confidence in the financial technology industry that — in the long run — bankers will become data scientists, innovative thinkers and computer scientists instead of the bankers that most people would think of today. 
It'll be fascinating to see if consumers lean toward traditional commercial banks or new ones, which will determine who can maximize profits and benefit the economy. 
Jeremy Abrams is a junior economics major. Contact Jeremy at abramsja@dukes.jmu.edu.
Disclaimer: I'm a long-term investor in J.P. Morgan and PayPal. Madison Business Review editor James Faris owns 0.1288 Bitcoin. I wrote this article myself, and it expresses my own opinions. I'm not receiving compensation for it, and I have no business relationship with any company whose stock is mentioned in this article.