COVID-19 has spread globally, and its ripple effects — including side-effects from social distancing, remote work and non-essential business closures — are following suit.
Workers have been blindsided by sky-high unemployment rates caused by the pandemic after one of the best job markets on record to start the year. That predictably led to a surge in home cooking as fewer commuted to work — especially given the advent of remote work for those still employed — and many households resorted to tightening spending and ditching restaurants.
Though fast food is synonymous with cheap food, cooking at home is almost 50% cheaper for a family of four than eating at McDonald's, according to The New York Times. The world's largest restaurant chain offers speed and convenience for people on the go — an appealing value proposition in America's fast-paced culture that's less necessary while millions have been stuck at home with nothing but time on their hands.
The opportunity cost of eating at home is often high for those with jobs but much lower for the unemployed. That's led to a financial hit for the restaurant industry, which is far from immune from the pandemic, though national chains are largely outperforming independent eateries.
The coronavirus-induced recession is different from the Great Recession in many ways, though there are still lessons and implications about consumer behavior toward fast food in recessions.
Fast food's revenue slows in recessions
McDonald's, a barometer of the fast-food industry, saw slowing sales in the Great Recession as cost-conscious consumers stayed home and ate in. But the recession appeared to benefit General Mills, a grocery store staple that makes beloved cereals, yogurts and snacks.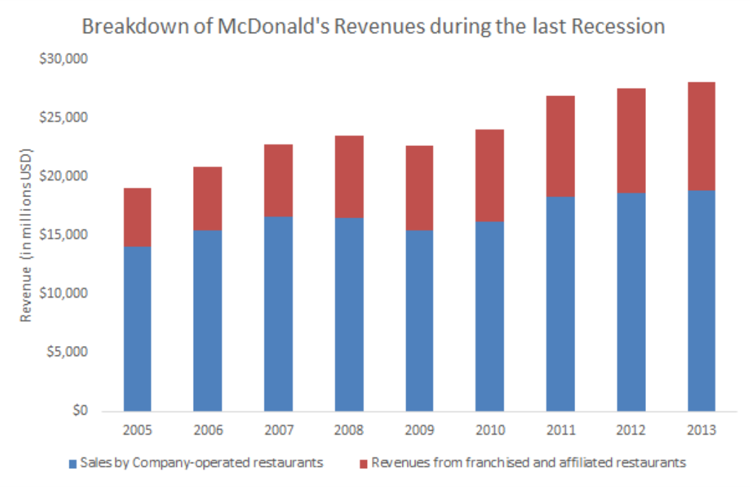 While the switch from fast food to groceries didn't materially affect McDonald's or General Mills' bottom lines in the long-term, it provides insight into Americans' food consumption habits in economic downturns.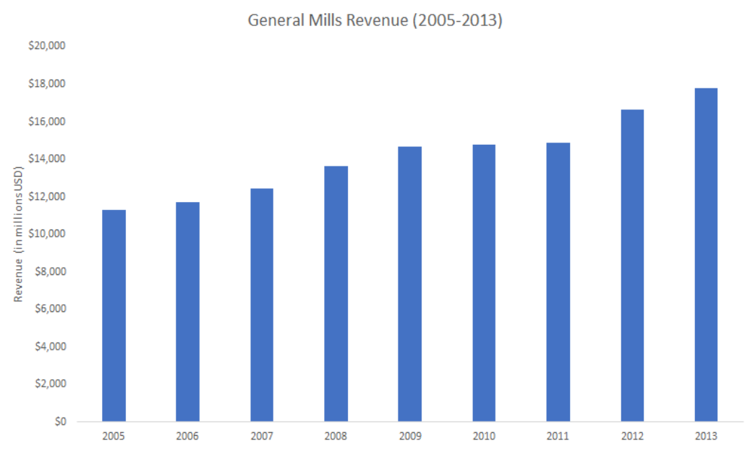 Fast-forward to 2020 where Walmart and Kroger's success has been reflected by better performance relative to McDonald's. 
In late March, McDonald's saw a drop off in its stock price of more than 30% compared to the start of the month, while General Mills, Kroger and Walmart dipped less than 10% each and recovered quickly.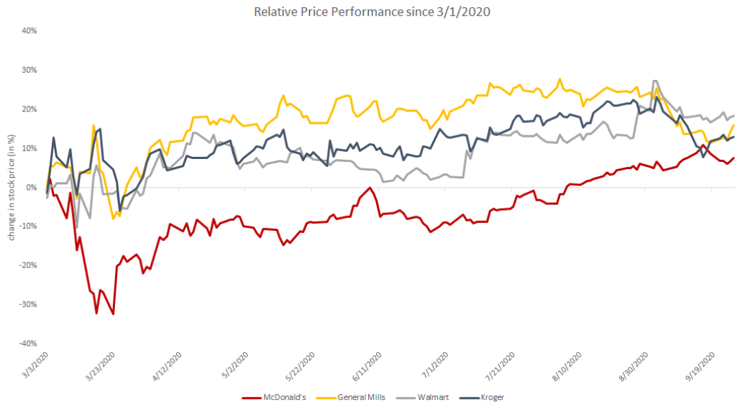 Although the prices of a company in the stock market should be a reflection of the present value of its future cash flows, it's important to note that it's not entirely rational and can fall victim to investor sentiment and speculation. 
Meanwhile, as data on McDonald's and General Mills in the Great Recession would suggest, grocery stores' gains came at the expense of restaurants — especially small, privately owned ones without the technology and resources to pivot to delivery overnight.
Up to 85% of individual restaurants may permanently close by year's end, according to estimates by Independent Restaurant Coalition, a group that's pushing for gridlocked Congress to pass a $120 billion bill to bail out small restaurants.
The most notable difference from these smaller restaurants and behemoths like McDonald's is that small-business owners don't have giant cash reserves to weather out the storm or pandemic-friendly drive-through systems. 
Without cash, desperate restaurant owners turn to the banks and the government for money, and most banks wouldn't lend favorably to failing businesses while Paycheck Protection Program loans can only help so much. In turn, many restaurants are doomed, leaving consumers with fewer options.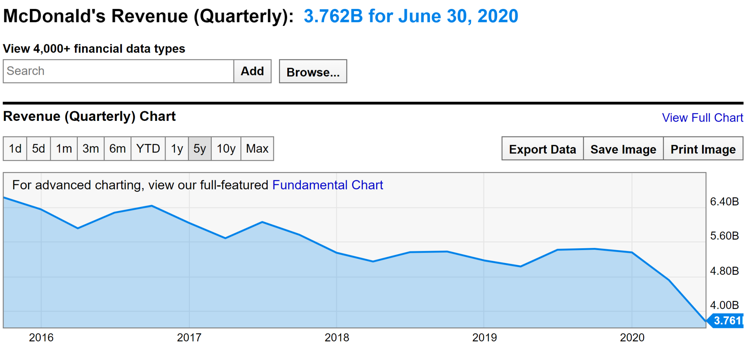 Though fast-food demand tends to fall in recessions, McDonald's can still win by seizing on business opportunities to buy real estate at discounted rates. Even after its revenue dropped off in 2009, the Golden Arches still added over 500 restaurants — a trend likely to continue this year and the next.
Food subscriptions reflect shifting consumer behavior
Meanwhile, food subscription services like Blue Apron and HelloFresh saw marked increases in demand at the beginning of the pandemic. Home delivery of food decreased the chances of getting the virus, so it made sense to pay an extra fee for safety and convenience.
The interesting part of the food subscription model is what will happen going forward, especially as households have grown accustomed to getting groceries from their doorstep. Because it's more expensive to get food via a subscription than at the grocery store, the demand for the products could decrease as the financial burden of the recession is felt. 
An alternative route is the subscription model finding and carving out a permanent space in its niche: selling to wealthier people that work from home. 
Someone working at the office all day won't see the benefit of the model, but those in longer work-from-home situations will. The subscriber is paying money to skip out on the time it takes to go to the grocery store and find recipes for the food they want. The more they work or earn, the higher the opportunity cost of taking the time to go to the grocery store is, so the extra cost of getting fresh delivered groceries is logical for them. 
This also increases the demand for fast-food delivery products like DoorDash, Grubhub and Uber Eats because if the opportunity cost of taking 30 minutes to pick up groceries is higher than 30 minutes worked, then the time it takes to cook the food will also be more costly than working, which will give consumers a tough decision to make.
Looking forward
COVID-19 and the recession it caused aren't going anywhere soon, so it's reasonable to expect both grocery sales and the food subscription model to increase in the immediate future and eventually level off with the reopening of restaurants. 
Fast food and new restaurants will take over the space left from other failed restaurants and eventually the food landscape will return to a new normal. Although they might miss some of the restaurants that closed because of the lockdown, consumers will adjust accordingly.
Phillip Roth is a sophomore finance major. Contact Phillip at rothpa@dukes.jmu.edu.