This year, Roger Soenksen and Kimberly DuVall, who have a combined 54 years at JMU, were voted the two best professors at the university by readers of The Breeze. Both Soenksen and DuVall adore JMU for many reasons, but the people they've met and connections they've made are what stand out most to them. They've each previously won awards in recognition of their teaching abilities.
Soenksen is a media arts and design professor and holds several advising roles. He came to JMU in 1976 when the university was still Madison College and is part of the last group of remaining faculty hired under the previous name. He came to the school as a debate coach before eventually teaching SMAD classes and advising. Soenksen said he initially came to Madison College because he felt this region was a "hotbed" for collegiate debate and there was a lot of support at the university for the debate program.
According to Soenksen, the student-centered focus of JMU is what he loves most about the university. While many other colleges have a heavy focus on their research programs instead of their undergraduate programs, Soenksen admires how JMU's focus is on undergraduate learning.
"Not everywhere do you have a desire of the faculty to work so closely with students," Soenksen said. "A lot of other institutions are focused on their research, working with master's or Ph.D. students, but here because we are still predominantly undergraduate, you're working with individuals who are still kind of finding their way."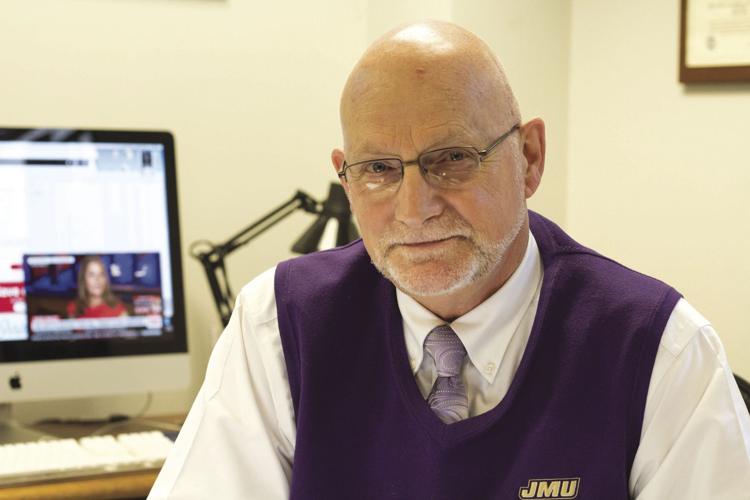 Soenksen is passionate about teaching and said his favorite part about his job is interacting with his students. He said he likes to keep the material he teaches interesting by coming up with new ways to get his students engaged.
"The students keep me young. They keep me energized," Soenksen said. "They ask great questions, they keep you refreshed. That interaction is really a wonderful part of this particular job."
Briley Brind'Amour, a junior media arts and design major and JMU volleyball player, is one of Soenksen's students. Her favorite things about Soenksen are how dedicated he is to his students and his willingness to help them.
"He's willing to help no matter what and it's really comforting to approach him," Brind'Amour said. "He's really welcoming when you need help and very outwards. If he doesn't know how to help, then he will reach out to someone who could."
According to Brind'Amour, Soenksen makes sure his students understand the material taught in class, which she feels sets him apart from other professors. He never tries to make a student feel uncomfortable for asking a question.
While honored he received this award, Soenksen acknowledges that other faculty members are deserving as well. Soenksen said he believes this honor could go to a number of faculty and departments at JMU.
"When we brought it up in class, he kind of got red and didn't want to announce it, which shows he definitely earned it," Brind'Amour said. "He's not out here trying to win best teacher, he's out here really trying to help the students."
DuVall, a psychology professor and adviser, is in her 11th year of being a full-time professor at JMU. She graduated from JMU in 1983, obtained her master's five years later and said she "bleeds purple." Even though she loves teaching now, she said she never thought she'd teach when she was younger because she considers herself introverted and shy.
Prior to teaching, DuVall started out working in other psychology-related jobs, such as researching head injuries and evaluating people on death row. Once she actually got into the classroom, however, she said she was shocked to find she was good at it. DuVall enjoys teaching large classes, but she said her favorite part about her job is meeting one on one with her students and building relationships.
"After doing all of that and teaching part time here and there, I just fell in love with it," DuVall said.
DuVall loves JMU for its friendly environment and, like Soenksen, the university's focus on undergraduate education.
"Gosh, there are just so many [reasons] I love it here," DuVall said. "People at JMU are just really friendly, like that holding the door thing."
Senior psychology major Morgan Welch has been a student of DuVall's for three years and is now her teaching assistant. Welch enjoys the way DuVall teaches because she uses examples from her own life and applies them to the concepts the students are learning so that they can better comprehend them.
According to Welch, it's DuVall's personable attitude that sets her apart from other professors. Welch feels she can go to DuVall with any problem she may have.
"She is honestly the most genuine professor. She cares so much about each student individually, which I think is very unique about her," Welch said. "She goes above and beyond for everyone and she's also very personable, like she wants to get to know you as a person."
Just like Soenksen, DuVall was honored and humbled to receive the award. She said she was surprised to find out she had won JMU's best professor.
"I'm shocked. I'm always shocked," DuVall said. "I won the Gen-Ed distinguished teacher of the year award this year and I was shocked. I was like, 'What!' I always feel like, 'No, that's not me. This is a mistake.' But I'm really honored."
Contact Carley Welch at welchcw@dukes.jmu.edu. For more coverage of JMU and Harrisonburg news, follow the news desk on Twitter @BreezeNewsJMU.